2012 Royal Easter show with AEVA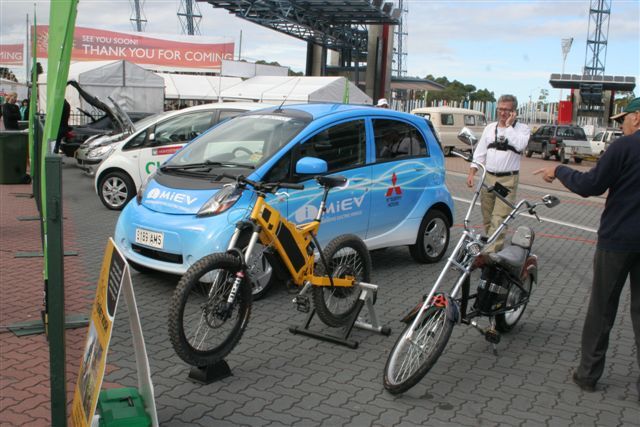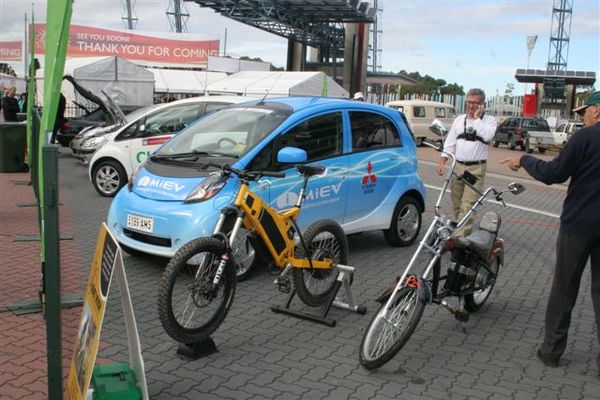 Just got back from the Sydney Royal Easter Show, where we were demonstrating after receiving a kind invite from the Australian Electric Vehicle Association (AEVA), so we were mixed in with a variety of vehicles, including commercially available models like the new Mitsubishi MIEV's, along with a range of owner modified vehicles ranging from mild to wild. It was great to be able to attend and engage with people, hearing their views on their experiences of electric bicycles or their aspirations - so many wide eyed kids going "coooollll", which I'll take as an encouraging sign. Mind you, they were saying that in equal portions between the Fighter, the dragster brought along by Rob Luck from EagleBikes and the ear-catching whine of the Catavolt brought along by John Eggenhuizen.

By the end of the day it was funny to watch the crowd coming back past, sugared up, tired but happy. Thanks to everybody that came up on the day to chat, met some real characters on the day, including trail builders of some favourite old haunts of mine in the Illawarra, 24hr racers, jaded motorcyclists and post-carbon economy transport enthusiasts, farmers,  mums and dads - a real mix.
We took a brief moment to go for a short explore and catch the trials show put on by Tripp industries, where we met with Jack Field, one of their ace riders for the Flair Action Sports riding team. To watch him perform his world record holding 'lowest backflip' on a stock GasGas 300 trials bike was stunning. Get along to any chance you can find to take in the skills of Australian trials riders, it really is breathtaking to see a bike handled so well. Of course, we also took the opportunity to throw Jack onto the demo Stealth Fighter we'd brought along with us for a shakedown. Thanks for taking the time between shows Jack!

We're looking forward to attending again next year, will work hard to have a couple more bikes along with us to showcase the range a little better and help people understand the respective differences between the bikes.

Big thanks go out to the Royal Agricultural Society (RASNSW) and the teams of volunteers who work to make the Easter Show an Australian family institution. They shepherded our fleet of EV's and carry-vehicles through the crowd safely, with good humour and a smile at the end of a long day. Big thanks also to Rob Luck for sharing his photos of our stand.