eBikes in Defence, Logistics, LEA roles
The utility eBike marketplace has been moving fast since 2014, with a string of capable models emerging. Here's a brief comparison of them as a snapshot of our Kinetics service.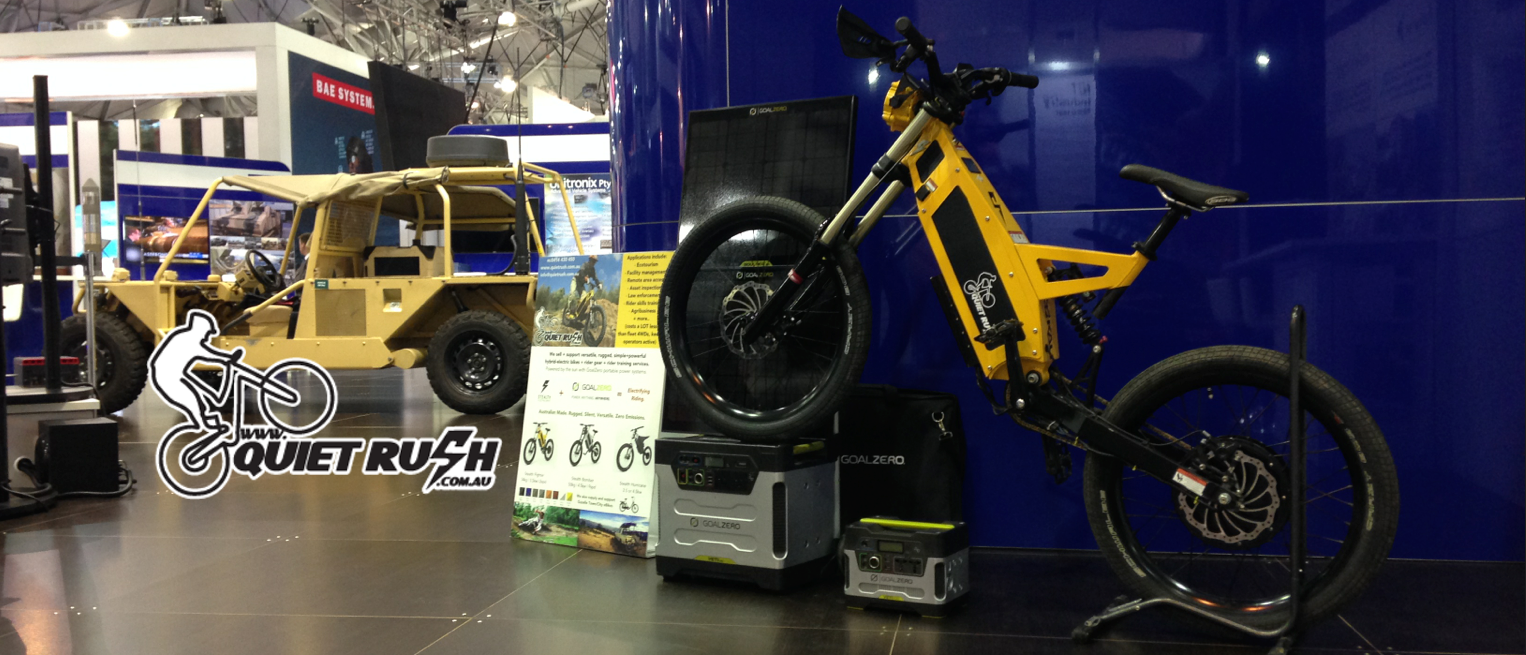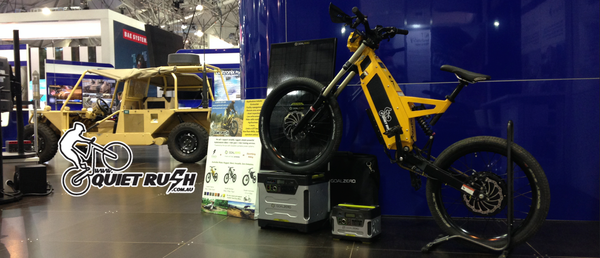 It's been interesting to see coverage this week by Dept of Defence on the trial of Stealth Electric Bikes as part of a scouting capability with 2nd/14th Light Horse Regiment, operating as a quiet alternative to current ADF fleet choice of lightly modified Suzuki DRZ400E models.

We first exhibited the Stealth product line, shortlisting as an innovation awards finalist, as part of 2014 LandForces Conference in Brisbane, getting some initial expressions of interest from a range of APAC defence and law enforcement agencies, including the US DoD. At the time, enquiries were lukewarm and tapered away, so it's nice to see the eventual public reveal of a deeper level of interest by the ADF in eBikes as a force mobility option.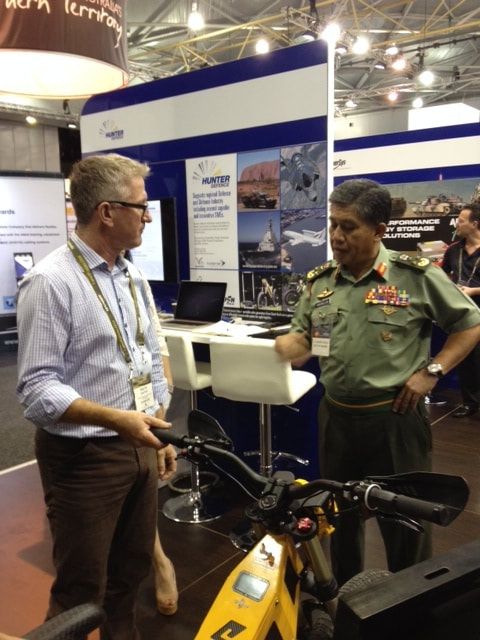 Keep in mind that the ADF are evaluating the B-52, a design that's now over a decade old, facing some supply chain constraints (particularly the Suntour VBoxx) and relying on a local assembly of overseas components into an Australian built frame. Recent updates by Stealth indicate there's likely new models in the not too distant future.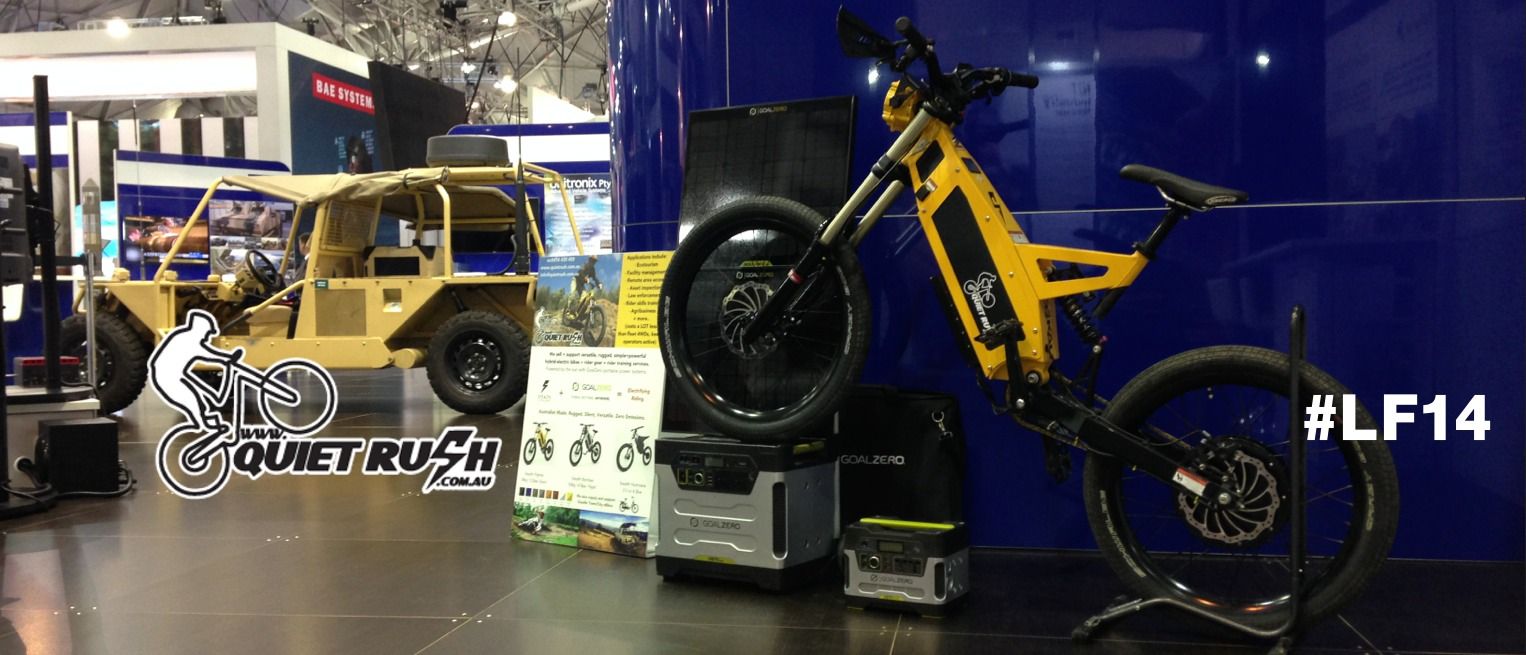 The broader eBike marketplace has been moving fast since 2014, with a string of potential other worthy candidates emerging. Given we've been riding, racing and evaluating a broad range of eBikes and eMotos over that period, we thought it timely to explore other options the ADF might want to do some capability evaluations on, with some strengths/weaknesses against the incumbent Suzuki DRZ400E and brief observations on differentiators from the Stealth B-52.
​
Keep in mind as we offer this view, that the author does have an informed perspective from time in the ADF Royal Australian Engineers, a human factors science background and MTB/eBike racing, support experiences through our earlier role as one of the first Stealth Dealers in Australia. It's the combination of those perspectives that helps us provide Kinetics as a vendor neutral advisory service, which is enhanced by prior bespoke+small volume manufacturing experience, and ongoing clean-tech innovations, marketplace monitoring in our sister company, Laughing Mind.
The incumbent: DRZ400E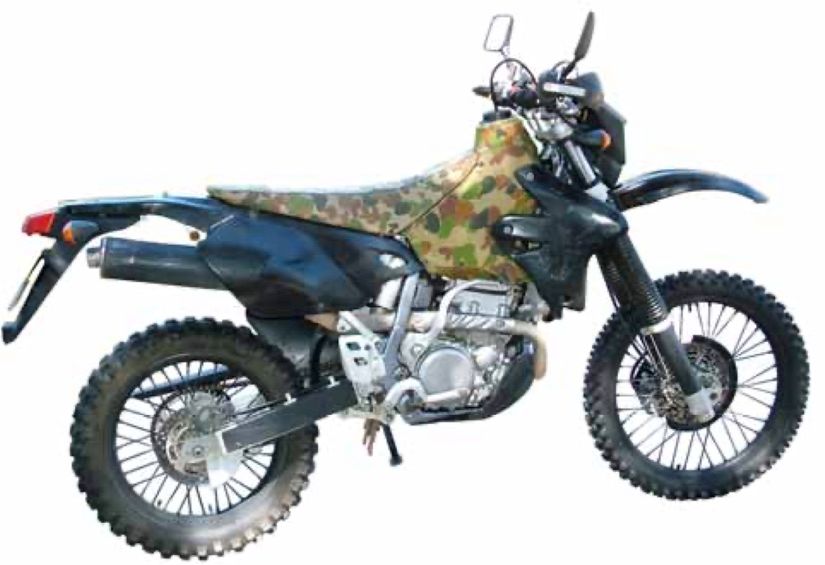 Widely referred to as the BushPig, the DRZ400E is a well established and known product, proven to be a reliable lightweight adventure bike with a stable aftermarket for enhancements. With a 5spd gearbox, its been well proven as a light/midweight adventure bike, though plenty of demand exists for a broader gear spacing and a 6th gear option. The ADF start with these as a base bike, with some adaptations of recoloured plastics, a larger 16litre tank and headlight modifications as the most obvious touches but there's more. Compared to other mid-weight peers, they have a rugged, reliable design, good service intervals compared to higher performance light-weight alternatives, more power than the DR250S model they replaced, but can be a bit on the porky side at 136kg dry. We recently raced one in Transmoto 8hr at Stroud to help stay informed on its capability profile and keep one on hand for the longer range exploration/location scouting rides we do for evaluating other marketplace products.

Sidenote: Within the US military, modified KLR650s that use a multi-fuel rated engine capable of running on diesel are preferred. Highly volatile fuels are not readily available in deployments, so diesel is preferred.
​
Strengths: Reliability, availability
Cons: Weight, noise factor, fuel reliance
Contender 1: Stealth B-52
The largest + heaviest model of the Stealth Electric Bikes (SEB) product line, their B-52 (aka The Bomber) is notable for its Australian designed and made chromoly steel frame+swingarm, established market reputation as one of the longer range eBikes. Their DC1 display is a bespoke unit, but most other components are available as aftermarket engines, batteries, gearboxes, sourced from outside Australia and tweaked by SEB.
The Suntour VBoxx managed to find a new life in the B52 as a product, having had limited traction in the MTB market. The cranks on this are deliberately designed as a softer material, so they can bend easily, but help prevent crash impacts transmitting into the VBoxx itself. Capable of 80km/h, their range is dependent on how hard you run at high speeds. Pedalling input can slightly increase range, but these are a heavy unit to pedal at 50kg, though that's also a big weight saving compared to the DRZ. No cargo systems are offered or viable, relying on aftermarket products like seatpost racks, which can lead to frame stress.
Sidenote: The smaller, lighter F-37, whilst lacking a 9spd VBoxx, is worth considering at 40kg and a 50-60km/h top speed, but slightly smaller battery (our personal favourite in the SEB product mix).

Strengths: Range, speed, pedal augmentation for range extension
Weaknesses: Soft cranks, supply chain vulnerability, VBoxx serviceability, no racking or cargo systems, no ADR compliance.
Contender 2: Ubco 2x2
The Ubco 2x2 is a well considered, design award winning product that's also been undergoing evaluation by the NZDF. Utilitarian in its design for a hard working life on farms and high exposure settings, the Ubco is powered at front and rear wheels with a well sealed battery system carried down low, giving it an excellent centre of gravity for responsive handling. Integrated cargo systems add capacity for a range of workloads, though it has comparably lower top speeds and suspension travel than the B-52. It's a great candidate for logistics elements where top speed isn't a requirement, though its quite capable of 50km/h and (in certain models) is ADR compliant for Moped classification and on-road use. The battery system is also designed to be used as a power source for charging other devices, though this will likely impact range if used heavily.

Strengths: Well capitalised, solid management team, award winning product, 2WD, cargo systems integrated, ADR compliance, battery able to be used as source power for other devices. Weaknesses: Lower top speed, battery-only drivetrain.
Contender 3: SurRon / Segway
SurRon eMotos like the SurRon-X are an interesting option also, and have been undergoing capability evaluation by Defence agencies. Their aluminium frame design is a smaller unit than the SEB models, but well executed and there are increasing aftermarket options for upsizing these to use industry standard 19" or 18"rear/21" front wheel/tyre combinations and change the seat/footpeg/bar offsets. Their stock suspension is on-par with SEB, but the battery system is removable and upgradeable to higher power units, along with aftermarket options from local Australian suppliers like EBMX to squeeze extra performance out of them, or to supply them as a remanufactured unit in higher performance formats. They've been undergoing viability testing by highly experienced local dirtbike racers in #hardenduro race formats, including 2WD variants, with impressive results in preliminary testing thanks to their smaller size and weight reducing rider fatigue and making it easier to lift them over/around obstacles.

Sidenote: The recently introduced StormBee is also worth keeping a close eye on, given its ADR compliance and higher performance levels, though is closer in size to a standard dirtbike.

(Disclaimer: We've been part of the EBMX product evaluation journey, assisting with industry events, race team logistics).

Strengths: Low unit cost, strong frame design, customisation potential for performance and rider ergonomics, ADR compliance (for select models). Weaknesses: Smaller frame, no cargo systems, battery-only drivetrain
Contender 4: Zero Motorcycles
Within the Zero motorcycles product lineup, exists the ZeroFX, a lightweight, dirt-oriented eMoto. They seem to have done a variant of that for military fleet applications which would make good sense. We've test ridden the FX and it impressed the hell out of us, have co-exhibited with Zero Australia at University of Technology Sydney (UTS), but the dealer network and aftersales support within Australia has been a less stable element of their business model, noting there have been no Australian distributors since 2017.

Strengths: power output, top speed >120km/h, dirtbike size equivalence for aftermarket parts availability, ADR compliance Weaknesses: high unit cost, reliability and after-sales support, battery-only drivetrain.
Contender 5: Cake Kalk
Possibly one of the newest models on the product spectrum, the award winning Cake Kalk is another well considered design that's started from an early stage to think about cargo systems integrations needed for utility purposes. This focus is evident across their product lineup, from smaller form factor bikes like their step through Makka to Kalk, their largest model. Featured in an anti-poaching collaboration with Goal Zero, the Kalk concept is promoted as a solar powered bush-bike, ready for use by armed rangers on poaching intercepts.
Strengths: Power output, 19" wheels standardised, top speed ~90km/h, cargo integrated design Weaknesses: Battery-only drivetrain, no AU dealers or support network.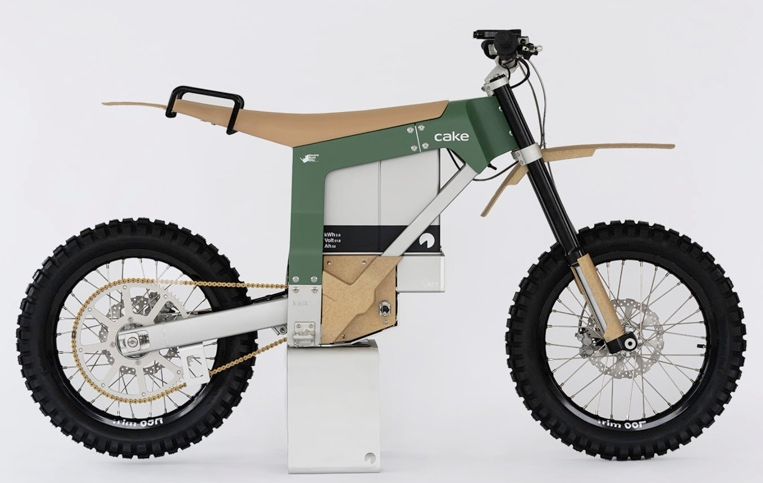 Wrap-up
Whilst the article frames eBikes as viable eMobility options in defence, logistics and law enforcement roles, stop and consider just how relevant they also are for farmwork, disaster response, industry settings as well, particularly as part of a fleet decarbonisation strategy. If that's something you'd like to explore, consider an engagement with our Kinetics service.
Update
27May2022: We're seeing examples of real world validation of eMobility options in conflict zones like Ukraine. Vice have done an interesting writeup at https://www.vice.com/en/article/xgde8k/ukraine-is-using-quiet-electric-bikes-to-haul-anti-tank-weapons